Scottish Woodlands team takes 1st place in sporting challenge

A team from Scottish Woodlands Ltd rose to the Great Glen Challenge - and emerged triumphant in the annual charity event.

The challenge involved running, walking, kayaking and mountain biking over a 46km course -, to raise money for the RSABI, which provides practical, emotional and financial support to those involved in the Scottish agricultural industry.

And the Scottish Woodlands team, from the Perth Sandpiper office, came out on top of the 25 different teams from the rural sector who took part.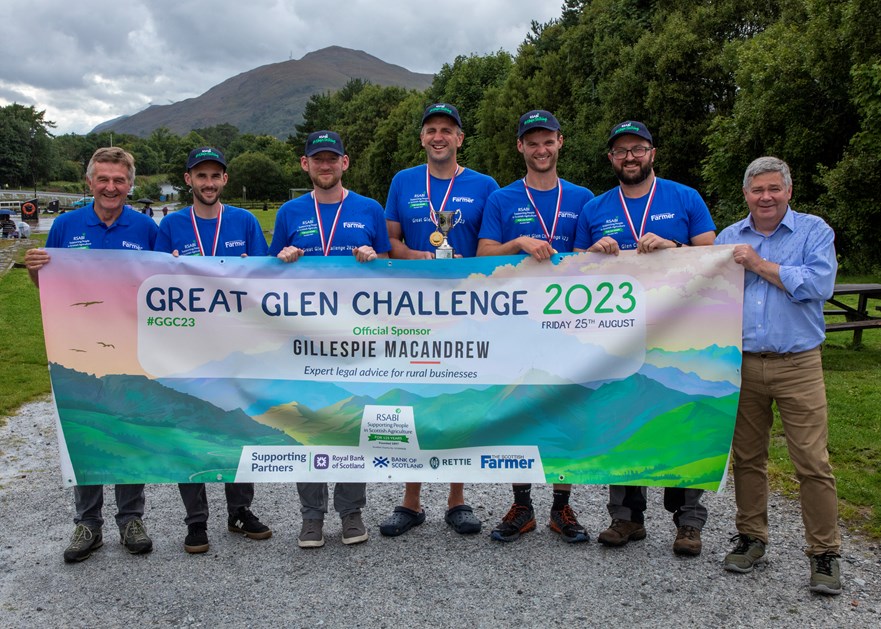 Official winners picture, courtesy of the RSABI 

An early start in Perth saw the team in Fort Augustus at 830am for the start of the multi-activity race to Fort William.

The team of Daniel Taylor (mountain biking), Cameron Woodall (kayaking), Neil White (walking), Mike Page (running) and Scott Carter (driver/support crew) performed consistently well across the board - and was delighted to scoop 1st place overall.

The team also smashed through their £1000 fundraising target with great support from colleagues, families and friends.

Mike Page, the team leader, said: "The Great Glen Challenge has been a long, tough day out for a great cause. We're delighted to have won but even more delighted to have raised so much money for this great charity. Everyone in our sector knows that people can easily get lonely and need some extra support and it's been great to help RSABI to provide that help. We've all had a great day out and will be back next year to defend our crown!"
Asked if there was any truth to rumours that Sir Chris Hoy and Sir Mo Farah were being given roles within the company ahead of the 2024 event, Mr Page refused to comment.