Overview
Scottish Woodlands is the largest supplier of private sector timber in Scotland.
Our roots originate from the Co-operative Forestry Society of Scotland and our philosophy towards timber marketing is still strongly influenced by that co-operative approach.
For over 100 years the company has successfully provided woodland owners with harvesting services and access to a wide variety of markets for timber products.
Part of this success has been based on working closely with existing and new processing partners to develop wood supply and access to markets, whilst also maintaining our independence to represent the grower's best interests.
Independent marketing of all roundwood categories
Successful marketing of roundwood depends on having access to all key markets. Scottish Woodlands markets timber to over 300 industrial wood users, giving us an intimate knowledge of the UK timber market, at both a local and a national level. We monitor all markets so that we can identify the best returns for client timber.
Scottish Woodlands has full chain of custody accreditation with both FSC and PEFC to allow supply of certified round timber to sawmills and timber processors.
Health & Safety and Environment
Scottish Woodlands is accredited to ISO 45001 and is a founder member of the Forest Industry Safety Accord.
We take health and safety very seriously and nowhere more so than in timber harvesting. We recognize that this is a high hazard industry, and therefore our systems have evolved to minimise risk wherever possible. We do this by only engaging competent contractors with the right equipment.
The environment we work in includes steep ground, windblow, complex machinery and tree felling. We need to keep the people involved as safe as we can.
For health, safety and the environment we believe that effective training is needed for both staff and operatives in the supply chain. We run courses on aspects such as water quality, emergency planning, pollution control, risk assessments as well as species and habitat protection.
Our ISO 14001 Environmental Management System places a particular emphasis on the need for careful site planning in advance of every timber operation.
We only fell and thin when all statutory permissions have been obtained and checks for protected species and habitats have been completed. We pay special attention to the protection of water resources ensuring every operation meets the requirements of Forest and Water Guidelines. 
Plant Health
The threat to our trees from pests and diseases is increasing. Climate change, global travel and international trade in plants and wood can increase pests and diseases and their impacts.
Pests and diseases can spread rapidly, threatening tree health and timber quality.
Taking tree health seriously helps us keep our forests healthy and flourishing for wildlife and people alike. Our forest managers are trained to identify pests and diseases and to manage operations in accordance with Statutory Plant Health Notices should the need arise.
Click the button below to download the SWL Forest Biosecurity Poster:
Specialist Ground Clearance
Scottish Woodlands has extensive experience of working with a wide range of civil engineering developments to facilitate renewable energy developments and power transmission projects.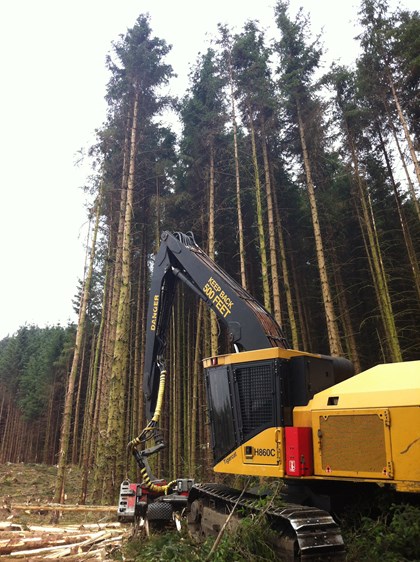 Our expertise and practical experience encompasses:
CDM Regulations, acting as Principal Contractor
Ensuring environmental and health and safety best practice
Surveying and marking out road lines and turbine bases using GPS/GIS technology
Tree felling and whole tree harvesting
Removal of harvesting residues from site
Mulching sites - uneconomic timber or environmental factors
Stump harvesting – for bio-energy and access provision
Surveys & Mensuration
Gathering accurate information about your forest is one of the key aspects of a successful timber operation.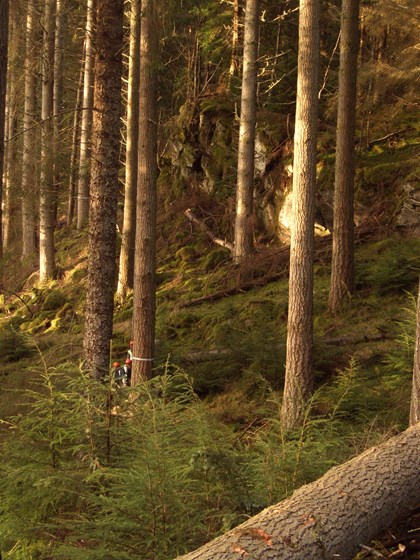 Our timber harvesting staff are trained in survey techniques to assess standing timber volume and quality. Equipped with electronic calipers, GPS and supported by our specialist GIS mapping division, Scottish Woodlands are equipped to measure your timber resource.
In terms of formal surveying and mensuration as part of our overall harvesting and marketing delivery we can offer:
Timber volume and quality assessment reports
Full or partial Tariff surveys to FC standards and procedures
GIS and digital mapping including aerial photography interpretation
Reports on roading requirements and forest planning optimisation
Independent Roundwood Marketing
A cooperative approach underpins our whole approach to timber marketing on behalf of our woodland owner clients.
By aggregating volumes, efficiencies of scale are realised for the organisation of both harvesting, haulage and shipping of round timber. This approach allows us to develop strong relationships with timber processors which in turn gives our timber grower clients access to the best market prices.
With annual timber sales in excess of 1 million tonnes, supplied to around 300 industrial timber users, this market presence provides both large and small growers with an efficient route to market for their timber harvest.
Our team of specialist timber harvesting managers are based throughout the main timber producing areas of the UK and understand the local market situation and opportunities. This local knowledge is then combined with our national and international market intelligence to give each client access to the best information and advice on how to achieve the best returns for their timber sales.
Timber Harvesting & Haulage
Scottish Woodlands approved contractors operate a range of purpose-built harvesters, forwarders, skidders, skylines and timber wagons to deliver in excess of 1 million tonnes of timber to sawmillers and wood processors every year.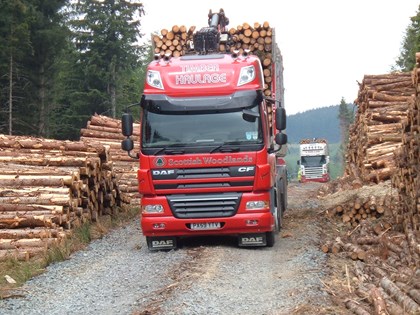 All contractors are required to achieve industry leading health, safety and environmental standards which are subject to a regular independent audit process to ensure consistent high standards.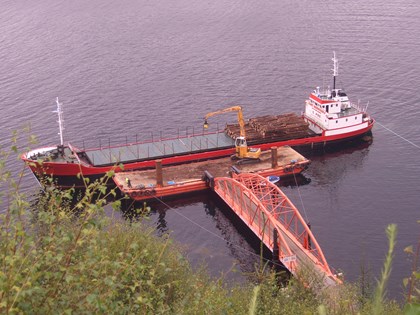 We can provide specialist equipment that's suitable for every scale and location of timber harvesting work. Harvesters and chainsaws use biodegradable oils and timber lorries are increasingly equipped with the latest in vehicle tracking, on-board weighing and central tire inflation technologies to minimise their impact on fragile rural roads. All hauliers are required to adhere to the industry best-practice Roundwood Haulage Code of Practice.
Where necessary, we can also offer innovative timber harvesting, shipping and haulage solutions in association with our major contract partners, including floating barges, independent loaders and tractor / trailers for secondary forwarding to transfer points.
Biomass and Energy Wood
Supported by a range of incentives and initiatives, the use of biomass as a fuel for both power and heat generation has developed strongly throughout the UK and mainland Europe.
Scottish Woodlands have been supplying a wide range of raw materials to support these market developments throughout this period. As technologies have been tested and developed we have been involved in brash recovery, stump harvesting and fuel chipping as well as with traditional roundwood supply for these markets.
We now supply an expanding list of both domestic and industrial customers with the fuel they require, establishing efficient links between these markets and the timber growers closest to them.
While the market developments are important, as foresters we understand what newly planted trees require and hence can advise growers on the development of sustainable fuel production systems that preserve nutrients and ensure continuing supply.