More young employees invest in their Scottish Woodlands future
Scottish Woodlands Ltd showcased its credentials as a forward-thinking, employee-owned business when a senior politician visited its head office.
The company is 80% owned by its Directors and staff members, with growing numbers of younger employees taking up a stake in the business. 
Ian Robinson, Managing Director of Scottish Woodlands Ltd, gave a presentation to Richard Leonard MSP (Labour), who has a specific interest in businesses that are employee-owned.
At the company's headquarters at Riccarton, Edinburgh, Mr Robinson talked about the history and background of the company, which emerged from the woodland owners co-operative movement.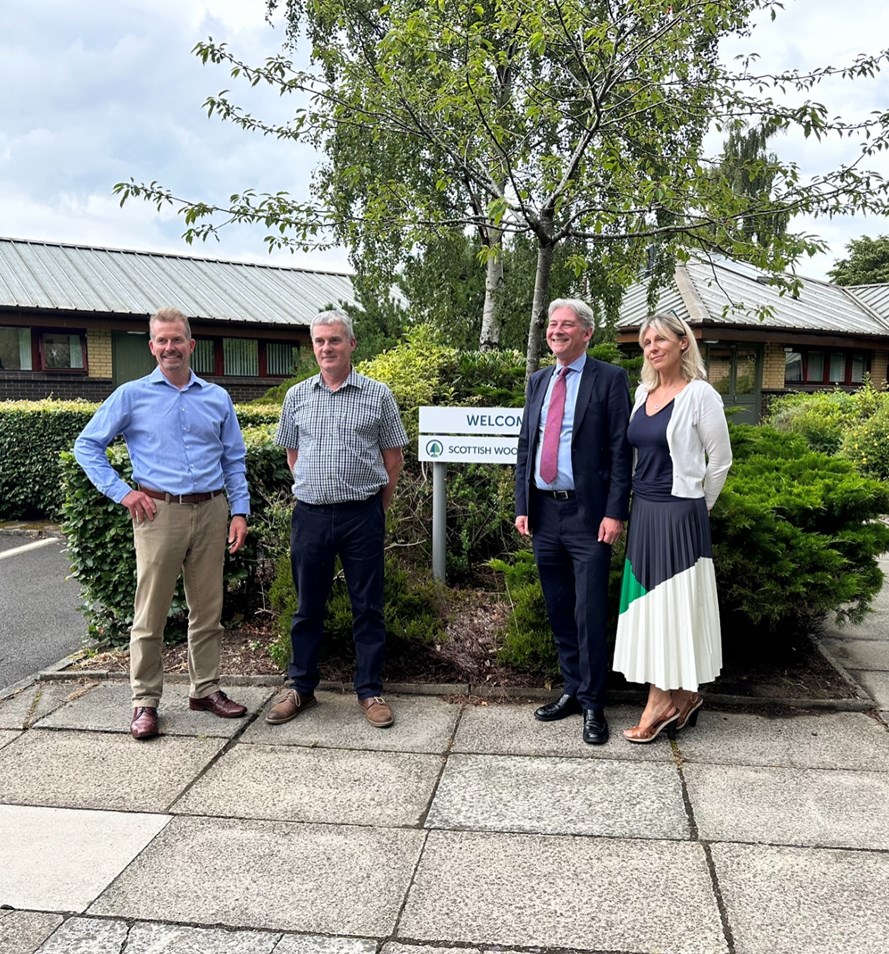 Left to right: Simon Oldham (Technical Director), Ian Robinson (Managing Director), Richard Leonard MSP (Labour) and Lynne MacDonald (HR Manager)
He highlighted the management buy-out in 1986 and the second buy-out in 2004 which led to the company becoming 80% owned by its employees (the other 20% is owned by sawmiler James Jones & Sons Ltd).
Mr Robinson also presented details on the current employee and shareholder demographics, which has seen the largest annual uptake, with over 20 new savers joining for the 2023/24 period.
Lynne Macdonald, HR Manager at Scottish Woodlands, said: "Scottish Woodlands is in a unique position within the forestry and wood sector in offering such a benefit to its staff. We believe very firmly that this helps attract the best young talent and leads to greater loyalty and higher staff retention. Employee ownership also has a positive impact on engagement and productivity, and makes staff more motivated in the workplace."
Ian Robinson, Managing Director of Scottish Woodlands, said: "We were delighted to be able to showcase our employee ownership scheme to Richard Leonard. I was particularly pleased to be able to tell him that ever-greater numbers of younger staff are investing in the employee ownership scheme."
"Scottish Woodlands Ltd has worked hard to create and shape its Graduate Development Programme to 'grow our own' future leaders - to address skills challenges in the forestry and wood industry. This is really paying off with more of our young recruits moving into senior roles and committing themselves to the company - and investing in their future."