Laura Jermy wins Scottish Woodlands 'changing attitudes' award

A YOUNG timber buyer and harvesting manager who promotes forestry through social media and in schools has been named as the winner of a prestigious industry award sponsored by Scottish Woodlands Ltd.

Laura Jermy, a timber buyer and harvesting manager with TG and DS Norman, won the Changing Attitudes prize at the Forestry Awards Dinner 2022, organised by trade body Confor.

Based in Carlisle, Laura works with local schools to promote forestry careers, and constantly highlights opportunities for women in the industry - through social media platforms including Instagram and Tik Tok.

The judges said: "Laura has shown her passion for the sector by not only learning the trade of a timber buyer and haulier, but also diversifying into forest management, dealing with harvesting and understanding the principles of woodland creation and sustainable forest management. As her understanding of forestry has grown, so has her passion to tackle misperceptions among the public she deals with.

"We assessed passion, drive and enthusiasm to change attitudes, and also impact. In Laura's case, she ticks both boxes."

Laura received her Award from Scottish Woodlands' Director of Forestry Ian Robinson - one of the award judges - at the event at The Sheraton Hotel in Edinburgh. The Award was also sponsored by Scottish Woodlands Ltd in February 2020, the alst time the dinner was held, when it was won by Mima Letts, Founder of Tree Sparks.

Mr Robinson said: "Scottish Woodlands Ltd was delighted to once again sponsor the Changing Attitudes award - and to be able to present it to such a worthy winner as Laura, and to choose from such a strong shortlist. We consider it crucial that the benefits of modern forestry are presented in a positive way to a much wider audience."

Laura received a beautiful wooden trophy by contemporary designer and wood sculptor Alice Blogg, who made the trophy with a piece of ash which came from less than a mile from her workshop in Dorset.

The three other shortlisted entrants for the Changing Attitudes award were:
Drew Easton, Learning & Development Manager, Jas P Wilson;
Vicky West, Manager, Woodland Carbon Code, Scottish Forestry; and
Tom Kemp and Nick Jarvis, Working Woodlands Cornwall CIC.

They were selected from a strong range of entries from across the sector and across the UK.

Other awards were presented for Innovation & Research, Future Leader and Dedicated Service to Forestry.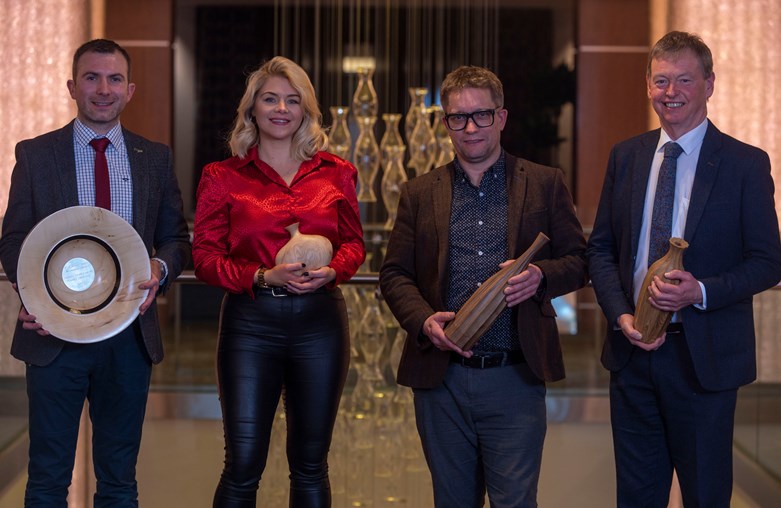 Confor's National Manager for Scotland Jamie Farquhar received a standing ovation at the event ahead of his retirement after almost 20 years in the industry.
 
Read about all the winners on the Confor website here

Mairi McAllan, the Scottish Government's Minister for Environment and Land Reform, told guests: "I am proud to be the Minister for forestry, and to be in partnership with such a flourishing and forward-looking sector.

"I doubt there has been a more important time for forestry in a generation. This Government is clear on the vital role you all can play in helping to address the critical challenges facing us [particularly climate change and net zero] as we begin to look past the Covid pandemic."

The Minister joined via video link after testing positive for Covid-19 on the afternoon of the awards.