Scottish Woodlands expands north east presence with new Banchory base

Leading UK forestry management company Scottish Woodlands Ltd is expanding its presence in the north east of Scotland with a new office in Banchory, Aberdeenshire.

Peter West, Senior Forest Manager, will be heading up the new office, located in Banchory Business Centre. Peter will be working closely with Neil Crookston, Scottish Woodlands Regional Manager North, who is based at Fochabers.

Initially, three managers will work at the Banchory office with plans for an additional manager to be added through graduate recruitment. Scottish Woodlands Ltd has a very active graduate recruitment programme, with plans to take on eleven new graduates this year.

Ralland Browne, Managing Director of Scottish Woodlands, said:

"With a historic presence in both Tarland and Brechin, it is excellent to open a new office in Banchory to re-establish a more localised service in the north east of Scotland. This allows us to continue to expand our footprint across the UK.

Neil Crookston, Regional Manager North for Scottish Woodlands, added:

"Forestry is a Scottish success story, and we are seeing steady growth in interest in all aspects of forestry management and planting across the country. Opening this new office will bring Scottish Woodlands closer to a growing client base within the East Aberdeenshire and Deeside area."

Peter West, Manager of the new Banchory office added:

"As well as our existing client base in the area, an ever-greater number of farmers and existing and new landowners are now seeing the benefits of forest ownership, afforestation and peatland restoration and it became clear we needed a dedicated base on Deeside to service this increased interest in these fields."

"I am excited to be starting up the office, where we will have a team of three managers to start with, with another to be recruited locally once the new office is up and running, and we have plenty of space for future expansion!"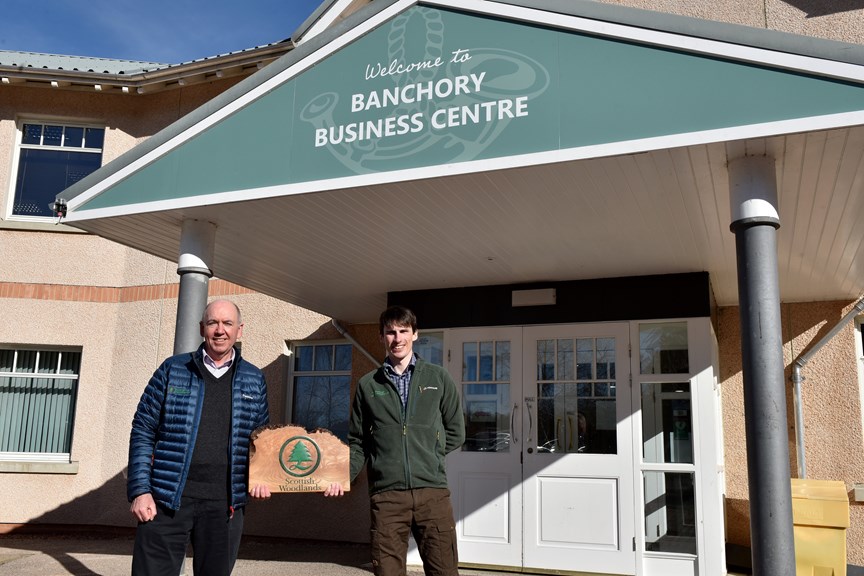 Scottish Woodlands MD Ralland Brown (left) with Peter West outside the new Banchory Office.

Anyone interested in forestry management, new woodland creation or woodland and peatland carbon in the area can contact Peter via email enquiries@scottishwoodlands.co.uk or telephone 0131 451 5154.

Scottish Woodlands Ltd
Tracing its heritage back over 70 years, Scottish Woodlands Ltd, with its headquarters in Edinburgh, is unique in the forestry sector, being 80% owned by its employees. It specialises in forestry management, timber harvesting and associated services within the UK with 20 offices across Scotland, England, Wales and Northern Ireland. With 210 employees managing over 300,000 hectares of land the company is currently carrying out over 30% of all new afforestation in Scotland and harvesting over 1.2 million tonnes of sustainable timber per annum.

The address of the Banchory Business Centre is Burn O'Bennie Road, Banchory AB31 5ZU.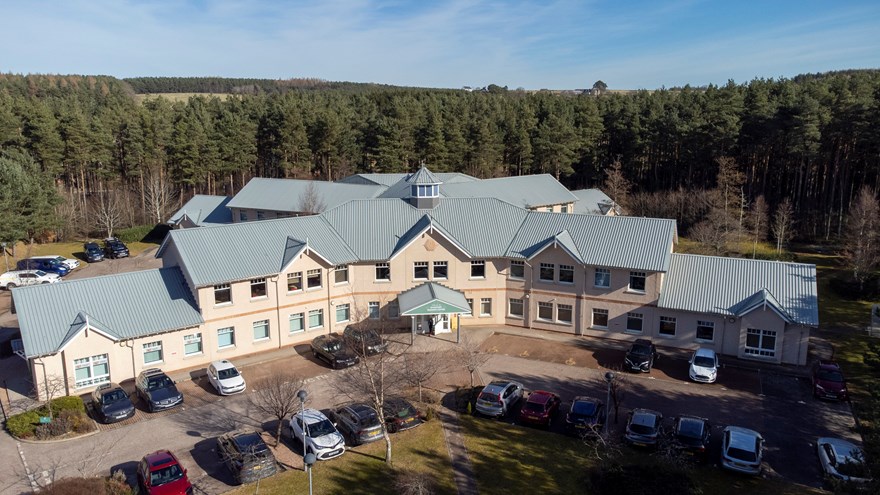 aerial photo of Banchory Business Centre