Have you got Scotland's finest farm woodlands?

The hunt is on for the finest farm woodlands in Scotland as part of the annual 'Tree Oscars'.

Scotland's Finest Woods Awards recognise the highest quality in forests, woodland and woodland education - in a programme supported by the whole forestry and wood-using community.

Scottish Woodlands Ltd sponsors the Farm Woodland Award for Young People (aged 40 or under when the awards close on 31st March 2023).

The winner will follow a series of high-quality recipients, including Allanfauld Farm, Kilsyth, North Lanarkshire, in 2022. Farmer John MacGregor and forester Andy Maclachlan, a Regional Manager with Scottish Woodlands, won the Young People's award and the farm was highly commended in the overall award as an excellent example of integrated farm forestry.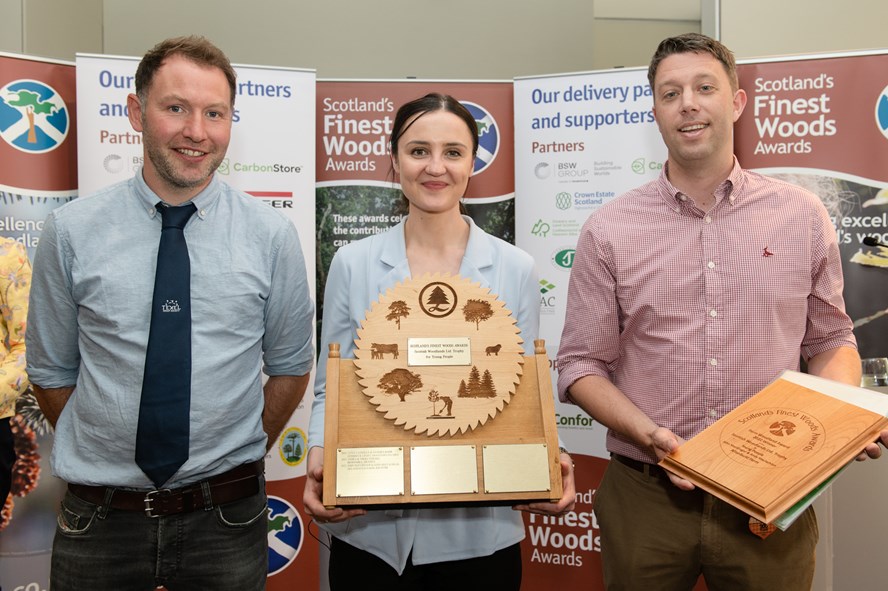 John MacGregor (left) and Andy Maclachlan (right) being presented with the Young People's Farm Woodland award by Scotland's Environment Minister, Màiri McAllan 

Andy Maclachlan said Scottish Woodlands Ltd had built up a relationship of trust and mutual respect with John MacGregor and his dad Archie.

"At the start of the process, it's so important to build trust. Some benefits are a long way into the future and that needs to be explained carefully. Scottish Woodlands did that and the MacGregors saw significant potential benefits to planting at Allanfauld, especially in bringing more marginal areas of the farm into productive use, so we went ahead."

"The main focus was not on the trees per se, but what those trees could deliver in terms of tangible business benefits. How would they add to the bottom line and long-term resilience of the farm business?"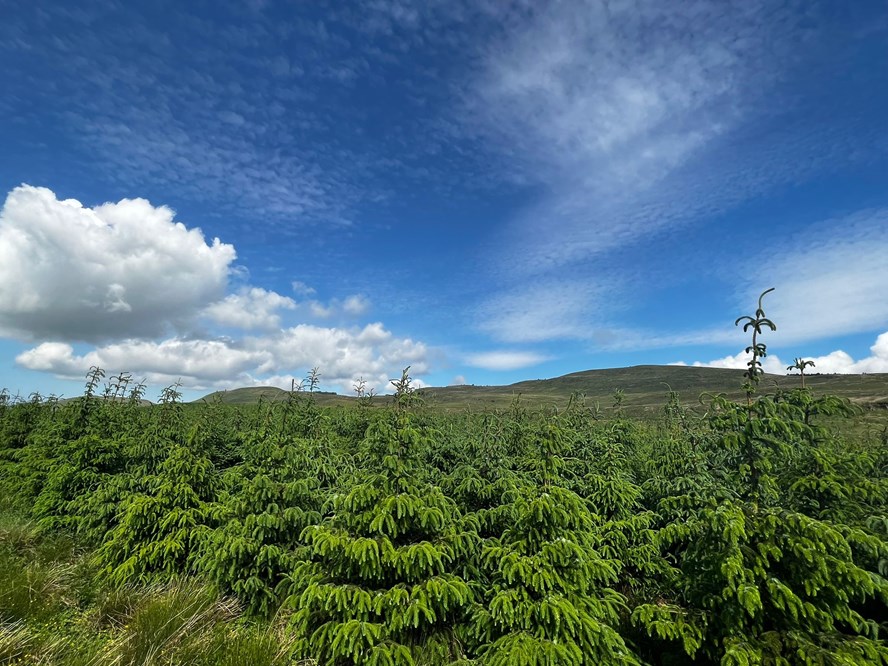 A general scene of Allanfauld

In 2021, judges said the winners James and Nikki Yoxall who farm at Howemill, near Huntly, Aberdeenshire, had created a "wonderful example of a unique integration of trees and farming."

Nikki Yoxall said: "It's a harmonious system. The cattle bring benefits to the woodland and the ground flora and fauna, and the cattle benefit in terms of nutrition, and general health. We are well on the way to seeing that it works and that both the cattle and the woodland are better for it."

The Awards didn't take place in 2020 due to the pandemic, but the inaugural Farm Woodland Young People's Award in 2019 went to Lynn Cassells and Sandra Baer at Lynbreck Croft, near Grantown-on-Spey.

Ralland Browne, Managing Director of Scottish Woodlands Ltd, said: "Since we created the Young People's Farm Woodland award and trophy, we have had three excellent winners - and I'm confident this year will be no exception."

"There is some fantastic and very innovative work being done by young people on farms across Scotland - and I look forward to honouring another worthy winner in 2023."

Jean Nairn, Executive Director of Scotland's Finest Woods, the charity which runs the Awards, said: "The wonderful efforts across Scotland to use forests and woodlands to mitigate, adapt and educate everyone about the climate crisis will rightly be recognised through the Awards."

"This encompasses the forestry and farming sectors as well as schools and communities – all of whom play their part in helping Scotland overcome the environmental challenges facing us all."

The deadline for Scotland's Finest Woods Award is 2023 31st March and you can find out how to enter here: https://www.sfwa.co.uk/farm-woodland-award/