Forestry conference puts changing attitudes in spotlight
A major policy conference sponsored by Scottish Woodlands Ltd will include a session on changing public attitudes to the forestry and wood processing industry.

One of the speakers in the session will be Laura Jermy of TG & DS Norman, winner of the Changing Attitudes award (also sponsored by Scottish Woodlands) at the 2022 Confor awards dinner.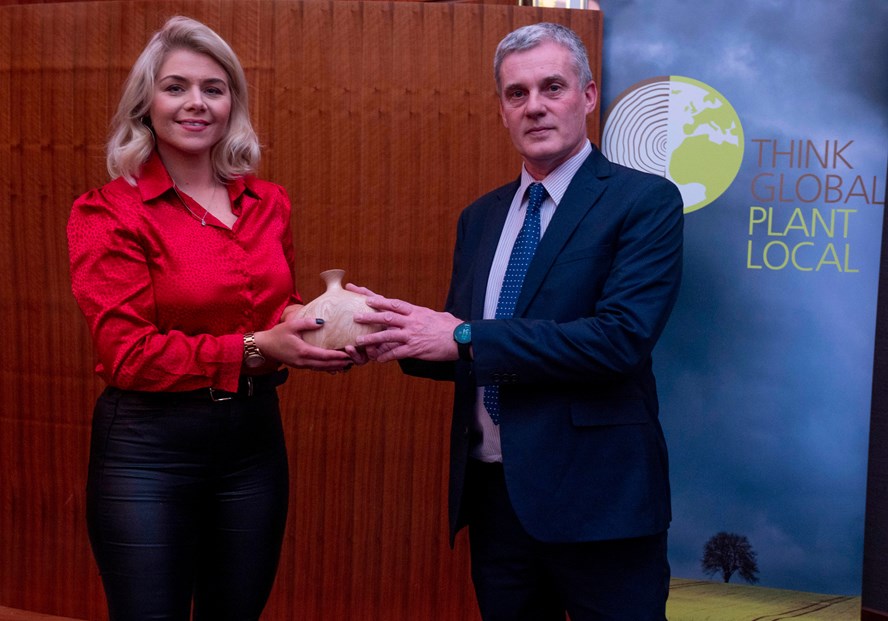 Laura is pictured receiving her award from SWL's Forestry Director Ian Robinson

The conference, to be held at the QEII Centre at Westminster on 8th December, very close to the Houses of Parliament, will also examine the increasing demand for wood, globally and in the UK, and identify how to grow domestic supply to unlock investment and job creation and achieve net zero targets.

Speakers include Lord Deben, Chair of the Climate Change Committee, Forestry Commission CEO Richard Stanford and Mike Childs of Friends of the Earth, which recently published a report, Why the UK needs more trees.

Michael Hall, Regional Manager for Scottish Woodlands, will introduce the afternoon session, ahead of the changing attitudes discussion.

New Forestry Minister Trudy Harrison MP has been invited to speak and representatives of the main political parties will take part in a panel discussion about how to deliver policy which supports the economic and environmental benefits forestry and wood can deliver.

Ralland Browne, Managing Director of Scottish Woodlands Ltd, said: "Scottish Woodlands Ltd is delighted to sponsor this significant conference, which will examine the current challenges facing our industry, but more importantly, look at how we rise to those challenges and work together to overcome them. Part of that approach must be changing public attitudes towards forestry and wood processing, which all of us at Scottish Woodlands are very passionate about. Michael Hall and his colleagues are looking forward to contributing to these wide-ranging and important discussions."

For full details, the draft event agenda and how to book, click here