Toolbox Talks pass latest milestone

Scottish Woodlands Ltd has passed the major milestone of creating 200 of its 'Toolbox Talks' - regular, practical bulletins which emphasise the company's laser focus on health and safety in the forestry industry.

The Toolbox Talks are targeted at SWL staff, as well as the company's supply chain and business partners, to raise awareness of health and safety issues that are highly relevant to their day-to-day work.


"They take a practical example of a health and safety issue, look at what caused a specific incident - and what we can learn from that to prevent similar incidents in the future," explained Iain Calvert, the company's Head of Compliance.

He said a Toolbox Talk was a recognised term in the safety industry - a talk delivered at a personal level, which would historically have happened literally around a toolbox, to stimulate discussion and conversation about health and safety.

Scottish Woodlands Ltd started producing and sharing Toolbox Talks in 2014 - and has now produced 219, including 31 already this year.

"We try to tell a story that people can relate to, in terms of their own experience, based on real-life incidents," said Mr Calvert. "Those involved are asked for comment and feedback. Nothing goes out which the person involved hasn't contributed to."

"They are anonymous - no names and locations are given. It's all about "This happened, why did it happen, and what can we learn?"

Senior Compliance Manager Rona Higgins said the focus of the bulletins had widened: "We started off with just health and safety - but we've now got safety, workplace wellness and wellbeing, environment, quality and performance. This reflects the broader focus on employees' physical and mental well-being and the environment in which they work."

Mr Calvert said the next bulletin focused on heart attacks and cardiac arrests, and that the team had also looked at modern problems like 'sitting disease', which can have serious effects on office staff, drivers and contractors sitting in the cab of a forest machine for many hours.

The Toolbox Talks are typically 2 sides of A4, so they can be printed out and laminated for on-site use, as well as being available online - although bigger and more complex issues, like forestry machine fires and the forthcoming cardiac arrest bulletin, can stretch to four pages.

"Some issues initially identified in 'toolbox talks' have been developed into a wide-ranging mini-training programme, like our machine fires guidance note," said Mr Calvert.

Staff and contractors are encouraged to give regular workplace feedback, as well as the statutory reporting of any incidents, to ensure that the compliance team are aware of what is happening on the ground.

"We do ask employees and contractors for suggestions," said Rona Higgins. "When we're out doing site inspections, we'll see the contractors and we encourage them to make suggestions for toolbox talks. One of the guys said recently that it would be good to have another update on mental health, this was then created and "Don't Suffer in Silence" was issued in July."


Changing legislation, regulation and good industry practice means that the bulletins will continue to evolve. Technology is also having an impact, with the talks now including QR codes and web links to allow speedy access to further information.

"Standards change, and what was acceptable eight years ago, when we started the toolbox talks, no-one would accept now, and it's not just about safety, it's about our standards in general, both are very much "interlinked," said Mr Calvert.

"For example, when we used to put up roadside signs, staff would stab holes in the sign with a pen-knife and secure it into a wooden stake with tree ties. This led to several serious injuries requiring hospitalisation, so we brought in a standard where what you have to do now is get a washer and a screw and drive it into the wooden post with a little handheld socket and screwdriver. It's far safer, it looks a lot better and the signs last longer, because they don't slide down the post, or turn around in the wind."

Mr Calvert said the team kept a close eye on the health and safety approaches of countries with very mature forest industries, like British Columbia in Canada, and New Zealand. He also stressed that the bulletins were shared with third parties when relevant - for example, Scottish Woodlands does a lot of work with utility companies like SSE, Scottish Power, and Network Rail, and shares appropriate bulletins with those businesses.

Mr Calvert said: "Someone from HSE said to me that once an industry starts producing safety bulletins and toolbox talks, it's a sign of safety maturity. For Scottish Woodlands, it's all about identifying issues - whether that's slips and falls, cuts, or more serious incidents like machine fires - and trying to fix them, so they happen less, or not at all."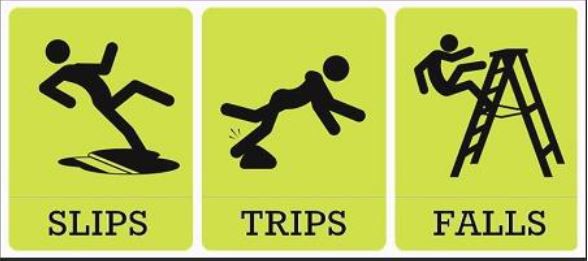 Ralland Browne, Managing Director of Scottish Woodlands Ltd, said: "We are so proud of our compliance team and the brilliant work they do. The Toolbox Talks are high-quality and industry-leading and represent a very visible and pragmatic sign of the company's total commitment to continuous improvement in the health and safety field. I look forward to toolbox talk 250 coming out some time next year!"