Tom Barnes wins Scottish Woodlands' Changing Attitudes Award

Tom Barnes has been named as the 2023 winner of the Changing Attitudes Award, sponsored by Scottish Woodlands Ltd, for his work in creating short films promoting positive messages about the forestry industry.

The Managing Director of Vastern Timber, based in Wiltshire, was honoured at the awards dinner hosted by forestry and wood industry body Confor.

The Changing Attitudes Award - announced by Ian Robinson, Director of Forestry at Scottish Woodlands Ltd - rewards an individual, business or organisation "promoting the forestry and wood sector in a positive, impactful way - through personal engagement, campaigning, or communication."

Mr Barnes is the driving-force behind Wood for the Trees, a series of films on forest management and resilient woodlands which have had more than 60,000 views. Tom is also helping to engage policy-makers in the development of a national wood strategy for England, which is due to be published in spring 2023.

He was unable to attend the awards dinner but was presented with his prize in London by UK Forestry Minister Trudy Harrison MP.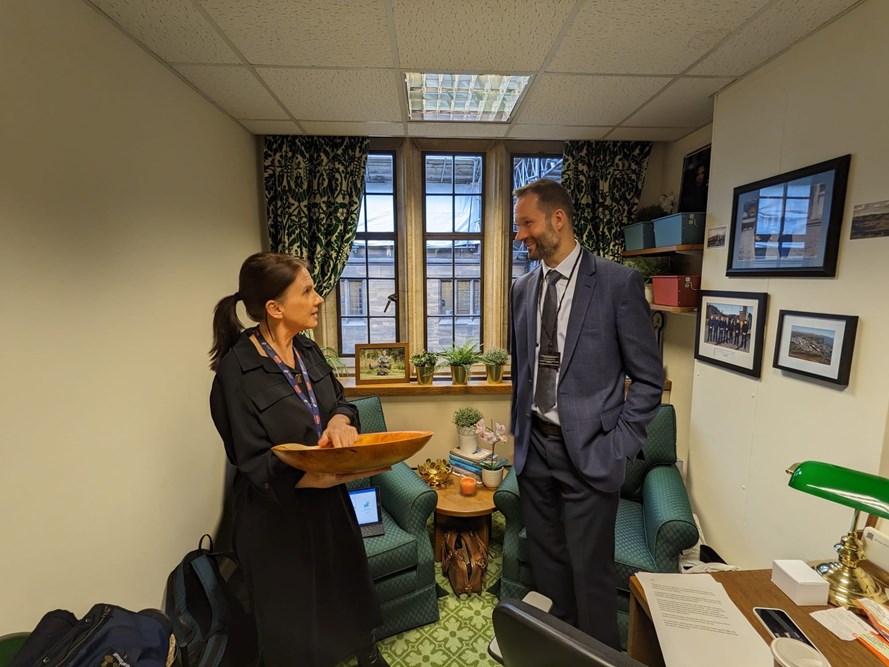 UK Government Environment Minister Trudy Harrison MP, who has responsibility for forestry, presents the Changing Attitudes Award to Tom Barnes of Vastern Timber.

The Minister praised Mr Barnes for his role in "hanging attitudes, inspiring people and valuing UK timber". She supported his efforts to address the "shocking" fact that only 19% of the timber used in the UK is grown here.

Mr Barnes said: "It's very, very important that we communicate this industry well. We are getting better and we have to be smarter at doing it." He also thanked the Minister and the Forestry Commission CEO Richard Stanford for their "bullish" approach to driving up tree planting of all kinds.

The other two shortlisted entries for the Changing Attitudes Award were Katy Davies, Director of Operations at Agrecruiting Staff and Liz Sharkey, of Sharkey Forestry.

Liz Sharkey uses Instagram to speak clearly and passionately about her work while challenging perceptions by documenting her experiences as a forester, business owner and mother.

Katy Davies works with a wide network to promote forestry careers and address skills shortages. She has hosted webinars, working with Bangor University, runs her company's YouTube channel, and has started the TreeTalk podcast.

Ian Robinson said: "It's great to see so much terrific work going on to change attitudes towards forestry. Tom was a worthy winner, but it's important to also recognise the great efforts of Katy and Liz - and all the other members of our industry seeking to present a positive, modern and realistic view of our industry."

"Scottish Woodlands is delighted to once again honour the individuals doing this great work. We have now had three superb winners in Tom, Laura Jermy and Mima Letts."

The Award was first presented in February 2020 to Mima Letts, of Tree Sparks, a student-led social enterprise which she founded while an undergraduate at Bangor University, to tell young people that working with trees can be exciting and awesome.

After a Covid gap in 2021, the 2022 Award was presented to Laura Jermy, timber buyer and harvesting manager at TG & DS Norman - for her work in sharing positive messages about forestry and wood with new audiences in schools and on social media.