The recent Confor dinner in Edinburgh, included an enhanced awards ceremony to recognise people working within the forestry industry. The evening was a celebration of colleagues working across the sector, no matter where in the rotation (crop) a forester is currently rooted.
Scottish Woodlands Ltd sponsored the Changing Attitudes Award, one of three new awards. The inaugural award was presented by Ian Robinson, Operational Director on behalf of Scottish Woodlands to Mima Letts, the founder of Tree Sparks while she was a student at the University of Wales, Bangor. She is now a trainee forester at Chatsworth Estate.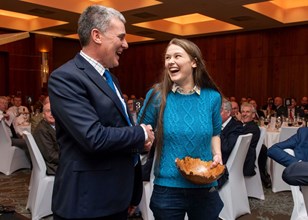 Ian Robinson of Scottish Woodlands presenting the Changing Attitudes award to Mima Letts of Tree Sparks at the Confor dinner. Image ©: Andrew O'Brien and Confor.
Afterwards Mima commented, "I am absolutely chuffed to have been nominated and win the Changing Attitudes Award at Confor's annual awards dinner for the work I have done with Tree Sparks to promote the forestry sector in a positive and engaging way. After stumbling into studying forestry, it has now become my life and I want to make sure others are not only aware of what forestry is and how cool it is, but that it is also a viable and hugely rewarding career choice".
Ian Robinson noted that "Scottish Woodlands is delighted to sponsor this new award to acknowledge the promotion of the forestry and wood sector in a positive and impactful way. Mima's enthusiasm for trees and forestry is evident to see, and she and her team will inspire young people to think about how their interest in environmental matters can be made into a sustainable and growing career. By encouraging young people to become foresters, through recognition of such awards, or by getting their careers well established with a graduate development scheme such as our own, we will ensure the industry, and the people working within it, are ready to grow with their contemporary 'crops' of trees and technology while other crops mature and new ones are planted."