SCOTTISH WOODLANDS SHARES 'HOME-GROWN' FORESTRY VISION WITH MINISTER

Scottish Woodlands shared its home-grown vision for the future of forestry with Scotland's Environment Minister when she attended the company's training day.

Màiri McAllan MSP met young people who are part of Scottish Woodlands' pioneering graduate development programme at the Dakota Hotel, South Queensferry.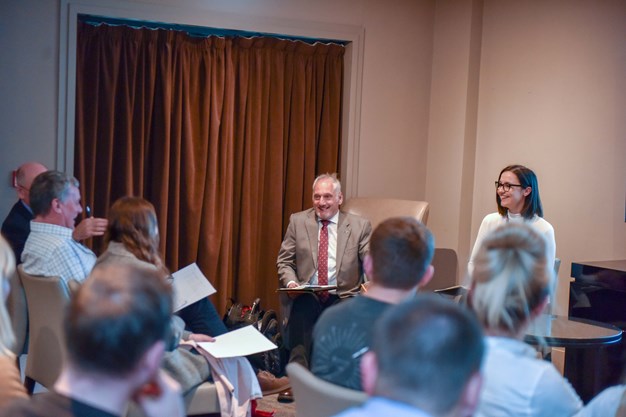 This year, Scottish Woodlands Ltd celebrated the 5th anniversary of the programme by recruiting 10 more future industry leaders, taking the total number of graduate recruits to 43.

The firm addressed the industry skills challenge head-on by launching its graduate programme in 2017.

"We believe more trees - and more future managers and leaders - should be home-grown," said Ralland Browne, Managing Director of Scottish Woodlands Ltd. "Forestry is a rapidly-growing profession and we need more skilled people in all areas of our business.

"To find these people, we've reached out into the broader land-based network, and found some excellent individuals who will go on to lead this business and the wider industry. We were delighted to be able to share their success, and our success, with the Minister."

Environment Minister Màiri McAllan said: "I enjoyed my time in Perthshire in February, visiting Scottish Woodlands' Knowes & Keltie planting site and seeing first hand the vital contribution of modern productive forests to our environment and economy.

"I heard about the company's graduate training programme that day - and I was delighted to be able to attend the training. Forestry is an industry where Scotland leads the way in the UK, with around 80% of all new tree planting. We can justifiably be proud of this, but we need to continue building to ensure future success.

"That's why creative graduate programmes like this are so important - to bring more young people into Scotland's growing forestry industry, giving them practical, hands-on experience to develop their skills as our future leaders of this green, Scottish industry."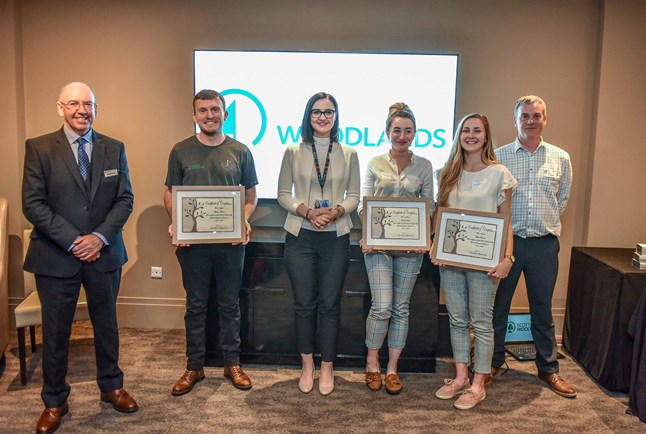 Mr Browne added: "We are delighted with the success of our graduate programme so far - 85% of those who have completed the programme are still with us. Our 2022 intake are joining us throughout June and July and I look forward to welcoming ten new and impressive young people onto the scheme - and growing more of those future leaders."

The new graduate recruits will work in a variety of locations and learn about forest planning, new woodland creation, timber harvesting, grant applications, working with contractors, forestry finance and much more.

The Scottish Woodlands training day also included sessions on the Forestry Grant Scheme, community consultation, investment forestry, forest economics, and woodland creation and environmental best practice.

"These days are vitally important because we want to share best practice across our teams and carry out all our operations to the highest standards and in partnership with all our stakeholders," said Mr Browne.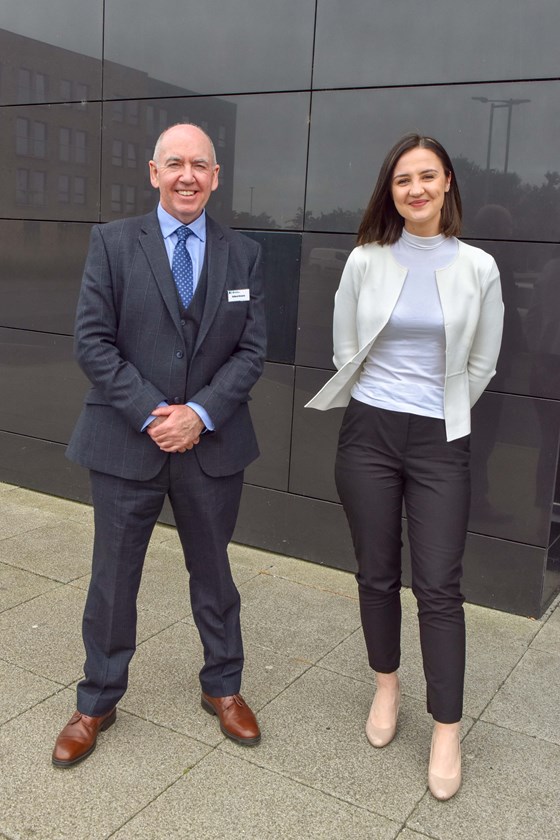 Scottish Woodlands Ltd employs more than 230 people in 20 different offices all across Scotland as well as northern England, Wales and Northern Ireland. It is 80% owned by its employees.

Pippa Paterson, a rural surveyor who joined the graduate development programme in September 2020 and is based in Perth, said: "I've loved all the different elements of the programme. I'm a very practically-minded person, so the idea of learning as you go really appealed to me.

"I can't believe how much I have packed in - I've worked on a lot of forest plans across Perthshire and Angus, as well as new woodland creation schemes and operational work. I'm really passionate about getting more trees into the ground in the right places and it's been great to work with such a wide range of clients - from small farm woodlands to large productive planting schemes."