Scottish Woodlands helps create Queen's Jubilee woodland

Scottish Woodlands has played a central part in creating a community woodland that celebrates the Platinum Jubilee - the 70th anniversary of the Queen's accession to the throne.

HRH The Duke of Gloucester planted the final tree in the community woodland at Lauder in the Scottish Borders, as part of the Queen's Green Canopy initiative.

More than 400 trees have been planted to form a new Platinum Jubilee Wood - part of a much larger planting scheme of 22 hectares on Lauder Common.

Scottish Woodlands Ltd was the forestry partner on the wider project - led by the Tweed Forum - after winning the work through a competitive tender process.

The work involved clearing gorse, erecting fencing and preparing the site for planting - and then planting more than 33,000 trees!

More than 29,000 native trees - including alder, aspen, birch, cherry, hazel, hawthorn, holly, juniper, oak, rowan, Scots pine and willow - were planted across six sites. A further 4,500 conifers were planted in another area nearby.

Michael Wilson, Forest Manager for Scottish Woodlands Ltd and based in Melrose, led on the project. He said: "It was fantastic for Scottish Woodlands to be involved in such a high-profile project to create the Platinum Jubilee Wood - as part of a broader planting scheme which will bring multiple benefits to the area."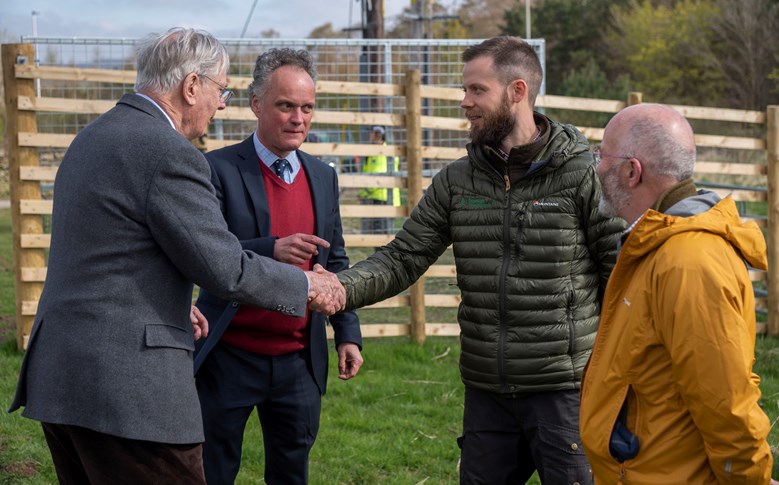 Pictured: Michael Wilson of Scottish Woodlands Ltd is greeted by the Duke of Gloucester at Lauder Common, watched by Tweed Forum Director Luke Comins.

The trees will improve the area's biodiversity, capture carbon dioxide to help tackle climate change, help with flood management and improve the attractiveness and amenity value of the local area. The conifer trees will also provide timber for the local community in years to come.

The community has been very supportive of the project and locals planted the majority of the Jubilee Woodland trees in March.