Forestry Minister: "I'll drive up productive planting."

The UK Forestry Minister pledged to drive up productive planting and to "slash the time it takes to plant a tree" at a major policy conference sponsored by Scottish Woodlands Ltd.

Trudy Harrison MP told the Westminster event: "We want more timber in construction to build homes across the UK and to do that, we really need more conifers."

She described the fact that the UK grew less than 20% of the wood it used as "unacceptable" and said she wanted to work with the industry to tackle this and use more home-grown timber, to help tackle climate change and support rural jobs.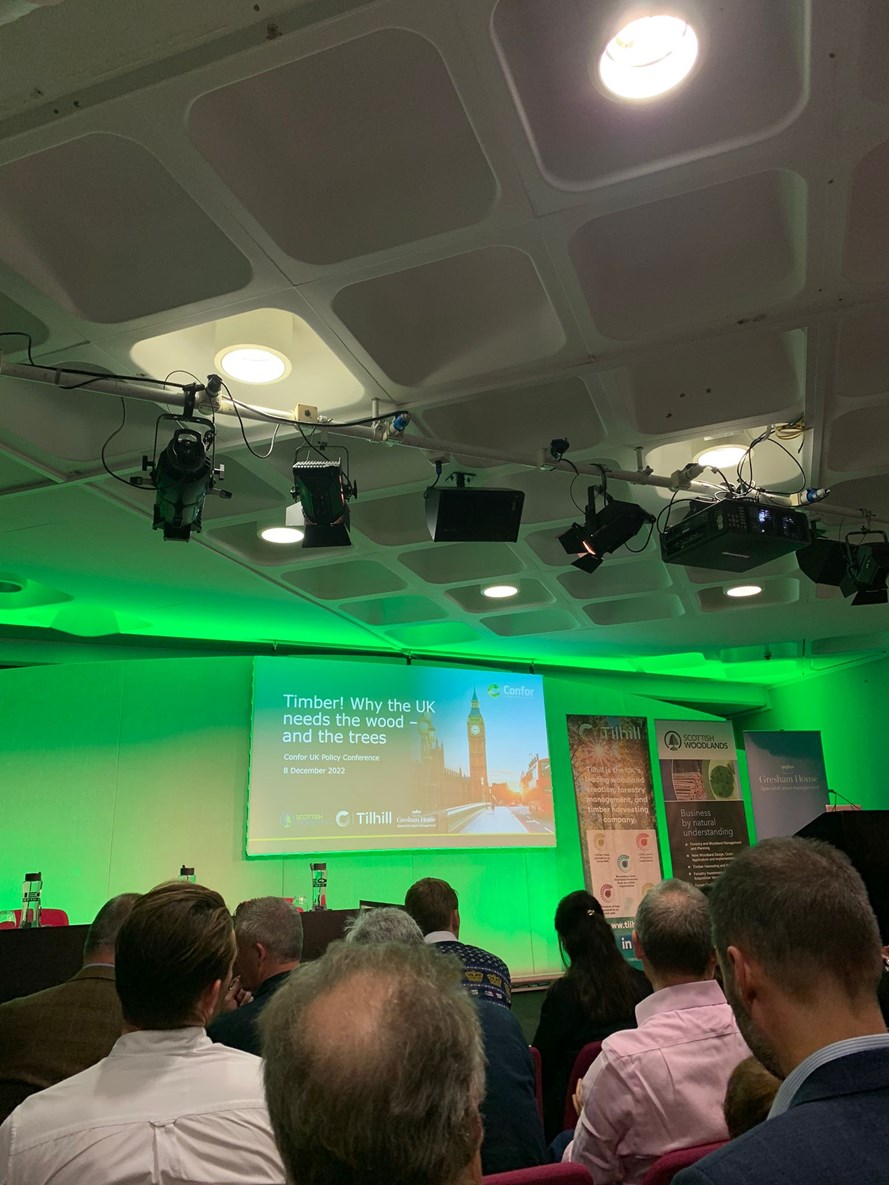 "The manifesto commitment is well-known - to plant 30,000 hectares of new woodland every year [during the lifetime of the current parliament] - but we are still woefully short," she said. "We are serious about forestry and timber and about hitting the planting target."
Reducing bureaucracy was vital, the Minister said: "I want to slash the time it takes to plant a tree. I hear horrific stories. I want to take a chainsaw to the time it takes to plant a tree."
Later, Richard Stanford, Forestry Commission Chief Executive, pledged to get rid of unnecessary regulation. The double consultation on planting schemes was "nuts", he said, and he also called for the time given to statutory consultees to comment on planting schemes to be reduced to 28 days in line with the planning system.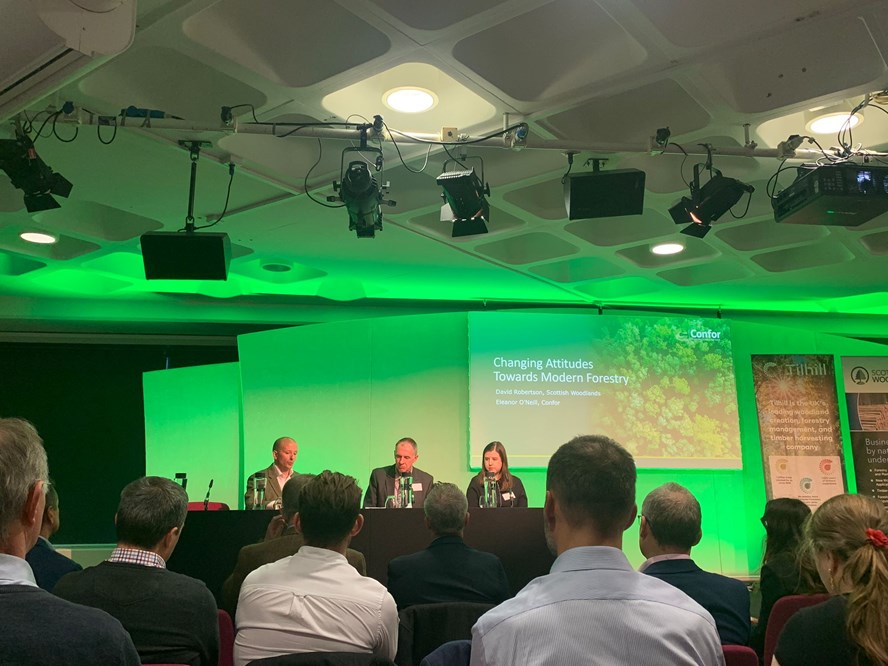 Mr Stanford said the climate crisis demanded "action, not prevarication" to ensure many more trees were planted. He urged everyone to "follow the science" and understand that a range of resilient species, including productive conifers, was needed.

"Let's stop this dogma of native woodlands good, conifers bad," he said. "Trees are all good. Idealism and purists have their place, but we need informed decision-making using science and data."

"We have got ministerial support so let's get behind that and get these trees in the ground."

Climate Change Committee chair Lord Deben said forestry and wood had a "remarkable future" - and urged the industry to grasp the opportunity.

Mike Childs of Friends of the Earth (FoE), who co-wrote FoE's report Why The UK Needs More Trees, also called for greater collaboration. "There are a myriad of reasons for us to be more ambitious about planting trees - and that includes being much more ambitious about what the productive timber industry can do," said Mr Childs.

The conference heard about plans for a National Wood Strategy for England, to be completed by March 2023.

David Robertson, Scottish Woodlands Ltd Director of Business Development and Investment, said: "The conference heard a unified vision to plant much more productive forestry to deliver a wide range of environmental and economic benefits."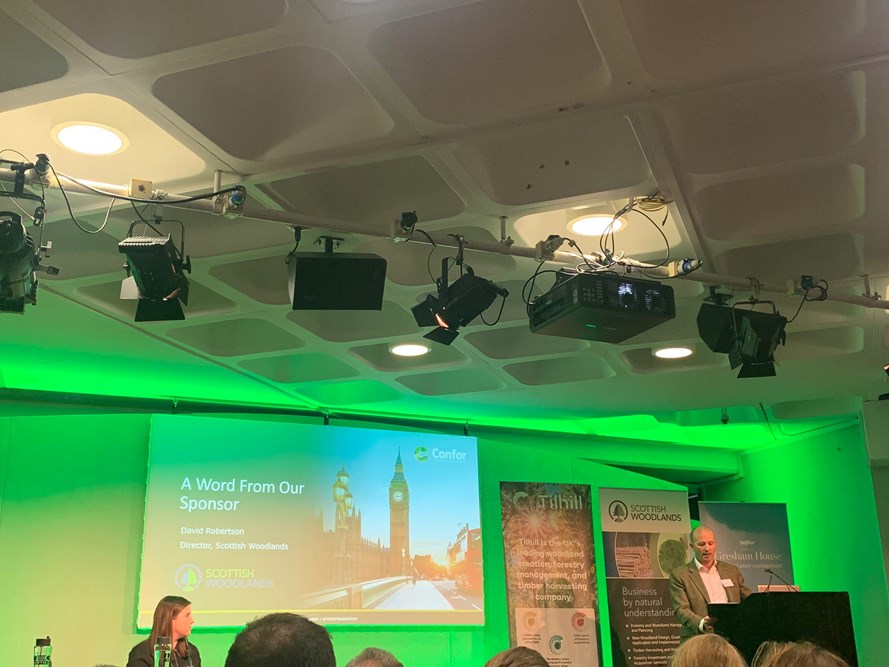 "We didn't just hear that from industry, but from the Minister, the Chief Executive of the Forestry Commission, the Climate Change Committee and Friends of the Earth. Now we need to turn all these positive and ambitious sentiments into action."

Mr Robertson, who spoke on a panel on Changing Attitudes to the forestry and wood industry, said: "It was great to hear so many different voices joining the conversation on the need for wood and trees! But it is vitally important that we broaden that same conversation out from our own 'echo chamber' in the industry to educate the wider population and especially policy makers - and turn positive and ambitious sentiments into action."

Scottish Woodlands Ltd sponsors the Changing Attitudes Award, presented annually at the Confor Awards Dinner. Laura Jermy, the 2022 winner, spoke at the conference, describing how she got involved in speaking up for the industry.

Ms Jermy, timber buyer and harvesting manager for TG & DS Norman, became aware from her son of negative comments made by a schoolteacher about harvesting trees - and conversations which followed led to her speaking to schoolchildren about what forestry was really like. She said the most common phrase used when she talked about the industry was 'I didn't know that'.

Mr Robertson said: "Laura is doing great and very practical work to change attitudes. All of us working in the industry have a part to play - we must work harder to get this point across and change outdated and incorrect perceptions."