Scottish Woodlands returns as sponsor for 'Tree Oscars'

Scottish Woodlands Ltd is delighted to once again sponsor the Young People's Award for Farm Woodland in Scotland's 'Tree Oscars'.

Scotland's Finest Woods Awards recognise the highest quality in forests, woodland and woodland education - in a programme supported by the whole forestry and wood-using community.

Scottish Woodlands Ltd created a unique trophy in 2019 to reward young people showing innovation in developing farm woodlands. It is available to a farmer/crofter and/or their forester if they are aged 40 and under on the awards deadline of 31st March.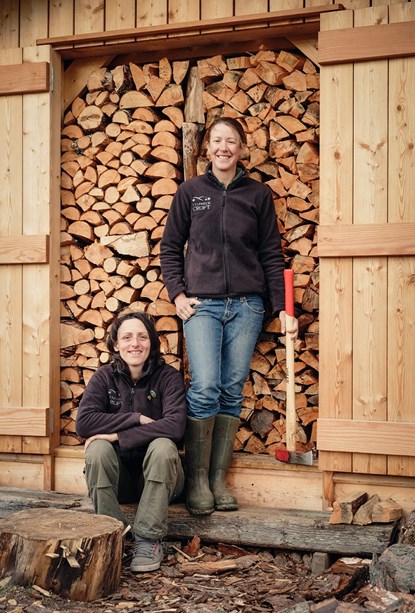 Ralland Browne, Managing Director of Scottish Woodlands Ltd, said: "We're very pleased to be back supporting these industry-leading awards once again.

"We created the award, and trophy, to recognise the exceptional work being done by young people across Scotland. Our first two winners have been real innovators and I really look forward to honouring another worthy winner in 2022."

The inaugural prize in 2019 went to Lynn Cassells and Sandra Baer at Lynbreck Croft, near Grantown-on-Spey - and after the awards were cancelled in 2020 due to Covid, the 2021 prize was won by James and Nikki Yoxall who farm at Howemill, near Huntly, Aberdeenshire.

The judges described Howemill as a "wonderful example of a unique integration of trees and farming".

Nikki Yoxall said: "It's a harmonious system. The cattle bring benefits to the woodland and the ground flora and fauna, and the cattle benefit in terms of nutrition, and general health. We are well on the way to seeing that it works and that both the cattle and the woodland are better for it."

Mr Browne concluded: "We know there are many more great examples of farm woodland out there and I'm certain the judges will find another excellent recipient of the trophy and cash prize this year."

The deadline is 31st March and you can find out more here: https://www.sfwa.co.uk/farm-woodland-award/