Property type: Traditional Estate in Grampian, North East Scotland
Scheme Objectives:
diversification of hill land use on the estate;
creation of a productive timber crop where access was suitable, which will provide future income;
grant-funded new deer fencing, which has improved wider deer management issues as well as protecting the young woodlands within the fence;
creating new native woodland habitat for a number of Biodiversity Action Plan species;
creating positive cash flow from year one, allowing for investment across other areas of the estate.
Area planted: 307ha of Native Scots pine & 70ha of commercially planted Scots pine.
Land description:  A mixed estate with forestry, tenanted farms, lowland and upland sporting interests.  Climate is typical for North East Scotland and is relatively dry.  Soils were predominately peaty podzols where planted.  There was also deep peat in areas of the overall site.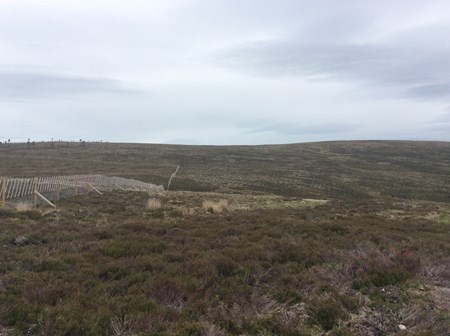 Commentary: Scottish Woodlands Ltd implemented this large scheme from the concept stage.  This included carrying out a proactive consultation exercise prior to submitting the grant scheme and environmental impact applications.  The scheme was generally well received by the various stakeholders and this process was beneficial to creating the final design of the scheme which meets all of the client's objectives. This ensured a smooth process once the application for funding was made.
The implementation of this scheme required considerable input from various different sub-contractors, with over 20 individuals on site at one stage carrying out the various tasks associated with this work.  The estate is committed to carrying out the required maintenance to ensure that they have a well-established, quality woodland for the future, as well as meeting the Forestry Grant Scheme requirements.