Andy Maclachlan reflects on how high-quality and successful farm woodland schemes are always based on partnership, mutual respect and trust between farmer and forester

When foresters sit around a farmer's kitchen table to talk about planting trees, they are always looking to forge a partnership. We're not there with an off-the-peg solution or to suggest we know more about farming than them; we're there to look at the specific farm business and how tree planting might add value to it.

The relationship must be about mutual respect and understanding - and that's what we have created at Allanfauld, near Kilsyth in North Lanarkshire.

The MacGregor family has farmed there for four generations and father Archie and his son John are hugely respected in the livestock world, as breeders and judges. Their list of achievements is significant, across multiple breeds of sheep and cattle. Highlights over the years include a six-figure value Blackface sheep ram sale in 2021 and winning overall champion entry at the Royal Highland Show with both Limousin cattle and Blackface sheep.

The MacGregors' primary objective is to produce high-quality pedigree and commercial livestock, and to run the 623-hectare farm as a successful business.

However, they also want to follow best practice in land stewardship to ensure they build a sustainable business for the future. John and his wife have three young children and the focus is creating the best conditions for the next generation of MacGregors of Allanfauld.

They have already shown a willingness to diversify, with a 350kW hydro scheme, installed in 2017, and bed & breakfast accommodation - so woodland creation was just another positive option for diversification.

Scottish Woodlands first built a relationship with the MacGregor family in 2013. Over time, this has developed with John MacGregor and myself leading the projects - and we were delighted to win the Young People's Farm Woodland prize at this year Scotland's Finest Woods Awards for our collaborative work at Allanfauld.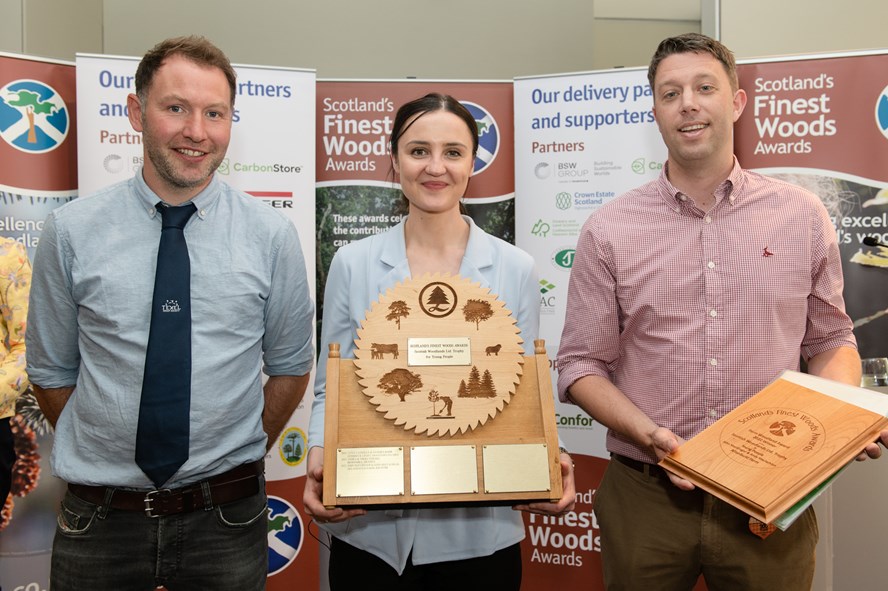 John MacGregor (left), Màiri McAllan MSP (centre) and Andrew Maclachlan (right)

Archie and John are commercially focused. Their main focus was not on the trees per se, but what those trees could deliver in terms of tangible business benefits. How would they add to the bottom line and long-term resilience of the farm business?

At the start of the process, it's so important to build trust. Some benefits are a long way into the future and that needs to be explained carefully. 

Scottish Woodlands did that and the MacGregors saw there were significant potential benefits to planting at Allanfauld, especially in bringing more marginal areas of the farm into productive use, so we went ahead. 

We have planted 70 hectares of woodland over two planting years in spring 2015 and spring 2016 - commercial species, mixed and native woodland and riparian planting. This variety has delivered multiple benefits.

The commercial planting (around 40 hectares in total, of Sitka and Norway spruce, Scots pine and Larch) will provide future income in the short and longer-term and shelter for the livestock. The design utilised an existing farm track, giving access for future timber extraction. 

Some of the mixed woodland will also provide future timber, while the native woodlands are creating new habitats, protecting soils and enhancing water quality. The riparian planting has helped to reduce soil erosion, improved water quality and stabilised steep banks.

All of the planting, and associated fencing, has assisted with general livestock management and movement - while any surplus in the initial grants has allowed re-investment in the wider farm, such as control of rushes and reseeding, to create higher-quality grazing for the livestock.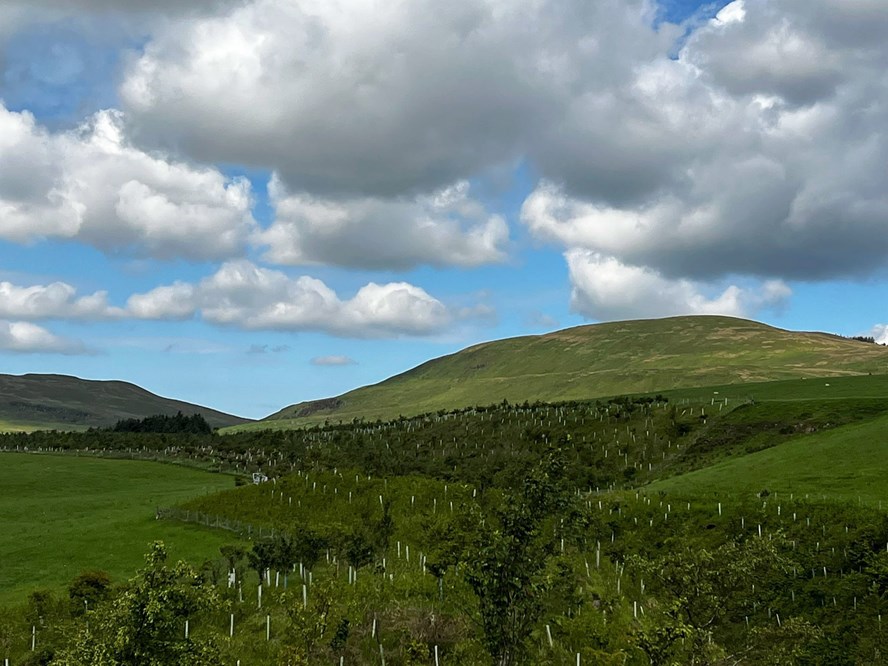 The strength of the Allanfauld project is that this is not forestry instead of farming. This is very much forestry as part of the farming business.

While the main establishment period has now passed, we remain in partnership to discuss any forestry issues, carry out annual reviews, and to keep under review other areas on the farm where woodland planting could benefit the business.  

The MacGregors' decision to plant trees has been very positive within the wider rural community, as they are such well-respected farmers. They made a commercial decision, their livestock numbers were not affected and the overall business continued to thrive and has been enhanced. Woodland creation has worked for them and for the farm business.

A number of neighbouring farms saw what was achieved at Allanfauld, and also planted significant areas of woodland.

This is all very positive, but every farm is different - and scale always helps. 

At Allanfauld, the MacGregors' wanted to continue to be custodians of the land, as opposed to just achieving a return on tree planting and moving on. The scale and the economics allowed Scottish Woodlands to work with the MacGregors to achieve that - and their farming business has continued to thrive as a result.

To finish where I started, it's all about partnership, respect and trust. Take time to listen to objectives, consider constraints and opportunities and then deliver on implementation and aftercare. When that works, forestry and farming can be a powerful and very positive combination.

To find out more about the opportunities for woodland creation to support your farm business, please contact us on 0131 451 5154 or at enquiries@scottishwoodlands.co.uk.