This Award is for a newly planted productive and predominantly conifer woodland of 10 hectares or more in extent, up to 5 years old and established on previously bare land where the planning, practice and management regime is designed to result in high quality timber production.
The judges said: 'Everything about this extensive new commercial woodland, its design, implementation and ongoing management, reflects a high level of quality and professionalism. There had clearly been effective collaboration between the owner (James Jones & Sons Ltd.) and the managing agents (Scottish Woodlands Ltd.) who developed the site. It was obvious that the owner had spared no expense in achieving an exemplar of its type, from the high spec road network built in advance of establishment, to the safeguarding and enhancement of conservation features.
The quality of silvicultural operations was extremely high. An obvious attention to detail was ubiquitous. While the main species is Sitka Spruce, the distribution of other conifers and broadleaves was well considered. In particular; the ground above the northern public road was entirely put over to broadleaves. Stocking density and plant condition were excellent. Everything about this new woodland is professional and looks professional.
It will provide a worthy gateway at one of the entrances to the Galloway Forest Park and in time will produce significant volumes of high quality timber for local markets.'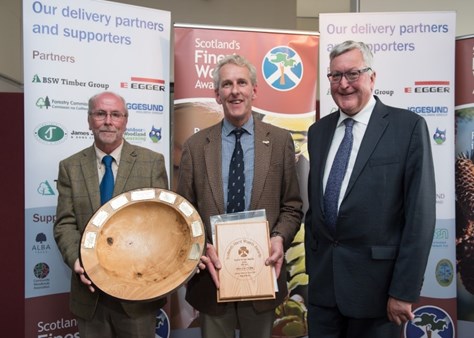 From left to right:Patrick Higgins from our Castle Douglas office, David Leslie from property owners, James Jones & Sons Ltd and Fergus Ewing, Cabinet Secretary who presented the prizes.