Modern, multi-purpose forestry at its best

A 158-hectare Scottish Woodlands Ltd site Perthshire, was commended in the Whole Estate/Forest category of the Quality Timber section of this year's Scotland Finest Woods Awards. The Clow and Condie site, near Dunning, was recognised at a ceremony at this year's Royal Highland Show at Ingliston.

Mike Page, Forest Manager with Scottish Woodlands Ltd, attended the awards to collect the prize on behalf of forest owner EB8 Ltd.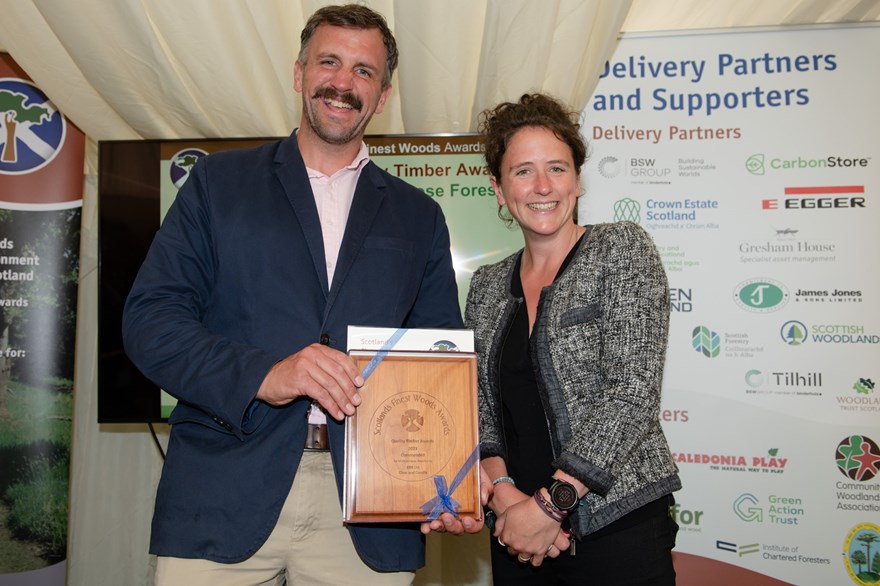 Mike Page (left) and Mairi Gougeon MSP (right) 
© Julie Broadfoot
The focus of Clow and Condie is primarily economic, via the production of quality timber, although the forest is also popular with walkers, cyclists and horse riders - and contains a large area managed for biodiversity. Three large ponds have been created on the site and the surrounding mixture of open ground, native broadleaves and scrub provides a haven for wildlife. The site has panoramic views over the Ochils and the Lomond Hills.

Since the phased felling of trees began approximately 15 years ago, the forest has been restructured to make the site more mixed, by varying the age and variety of tree species on the site.

Mr Page said: "Clow & Condie is a terrific example of modern, multi-purpose forestry - it is providing a significant timber crop, but also delivering very tangible benefits for biodiversity and for leisure and recreation - as well as the climate change benefits of growing trees and using wood."

He added: "I'm very pleased that this excellent site has received recognition. The management over the last two decades has transformed a single-aged plantation under two ownerships into a single ownership, multi-aged plantation. Access on the site has been improved for both forestry operations and recreational users."

Mairi Gougeon MSP, Cabinet Secretary for Rural Affairs, Land Reform & Islands, who presented the Awards, said: "The Awards are a great opportunity to celebrate our trees and woodlands, and especially, all the inspiring people who care for them. I'd like to congratulate the award winners and everyone who took part. This year we've had some fantastic entries which shows Scotland really does have a vibrant forestry and woodland sector."